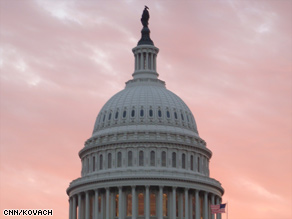 CNN: Payments to sister's company were 'legitimate,' Steele says
New Republican National Committee chairman Michael Steele said Sunday that payments to his sister's company by his 2006 Senate campaign were proper.
CNN: Stimulus will lead to 'disaster,' Republican warns
Leading Republicans warned Sunday that the Obama administration's $800 billion-plus economic stimulus effort will lead to what one called
CNN: Russian official: Biden's words 'very positive'
A top Russian official Sunday labeled as "very positive" remarks by U.S. Vice President Joe Biden on the Obama administration's stance on major nuclear issues and relations with Russia.
CNN: SC Governor: We're moving close to 'a savior-based economy'
As many state and local officials clamor for their share of the billions of dollars in federal aid in the stimulus bill under consideration in Washington, South Carolina's Republican governor is sounding a note of dissent about federal efforts to help the economy.
CNN: McAuliffe takes heat from rival at Democratic dinner
Could Terry McAuliffe's hefty bank account backfire against him in the Virginia's governor's race? That's certainly what one of his Democratic rivals is hoping.
CNN: Ensign: 'You don't get do-overs with a trillion dollars'
Republican Sen. John Ensign would like a little more time to consider the massive spending bill currently working its way through Congress. But Ensign also said he thought the bill would pass sometime this week.
CNN: Trial date set for Iraqi shoe thrower
The Iraqi journalist who hurled his shoes at former President George W. Bush will be tried in two weeks, a spokesman for Iraq's Higher Judicial Council judge told CNN.
NYT: Holbrooke Says Afghan War 'Tougher Than Iraq'
The war in Afghanistan will be "much tougher than Iraq," President Obama's special representative to Afghanistan and Pakistan said at a security conference here on Sunday.
Washington Post: Obama Confidant Plans To Meet Azerbaijani Leader
David Plouffe, who managed Barack Obama's presidential campaign and was cited by Obama as the "unsung hero" in his ascendancy to the White House, is expected to meet this week with Azerbaijan's president, who has been accused of undermining democracy in that oil-rich country.
U.S. NEWS & World Report: Why a Tiny Alabama Town Wants a $375 Million Chunk of the Stimulus
At first glance, the town of Edwardsville, Ala., with a population of 194 people, might raise a few eyebrows with its bid to receive $375 million from the economic stimulus package being assembled by Barack Obama and lawmakers in Congress.
Washington Post: Overtures to the Obamas
In a town where networking has been developed to a fine art, black Washington is clamoring for the Obamas. The election of the first black president is seen by many African Americans as their chance to finally sit at the table. And they want the seat right next to the Obamas.
The Weekly Standard: Testing 1-2-3
Joe Biden was right. That's not a sentence we expect to type too often over the next four years, but it's proper to give credit where credit is due….The Iranian regime, having spent the first couple of weeks of Barack Obama's presidency preemptively scorning his overtures, mocking his weakness, and assuring the world its nuclear program is nonnegotiable, last Tuesday reported it had launched a satellite into orbit, making clear that Iran intends to have a missile launch capability on which to deploy its nuclear warheads.Sounds like a test by the mullahs.
CQ Politics: Congressman Twitters an Iraq Security Breach
A congressional trip to Iraq this weekend was supposed to be a secret. But the cat's out of the bag now, thanks to a member of the House Intelligence Committee who broke an embargo via Twitter.
Washington Post Op-Ed: Arlen Specter: Why I Support the Stimulus
I am supporting the economic stimulus package for one simple reason: The country cannot afford not to take action.
Inevitably, the main focus of all this attention is Lincoln's views on race and equality, and his leadership during the cataclysmic Civil War. Yet given the fix we're in, Lincoln's economic ideas deserve some attention too. Long before he gave his first speeches about Union or slavery, Lincoln was a crusader on questions of economic development and banking. He cut his political teeth on conditions painfully topical for us today: an economic crash that left the young legislator struggling to shore up a failing bank while arguing for government spending on public works.