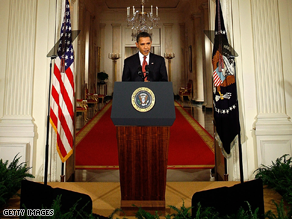 Obama is holding his first prime time news conference.
WASHINGTON (CNN) –- Tax cuts for the middle class. An extension of unemployment benefits and healthcare coverage for people "who have lost their jobs." And a pledge to "do whatever it takes to put this country back to work."
President Obama used his first prime-time news conference Monday to sell Americans on his economic recovery plan as well as pressure Congress to act quickly and approve it so that money can start pumping into the ailing economy.
Watch: The stimulus plan is not perfect, says Obama
Obama employed perhaps one of the most powerful tools in his arsenal –- the White House bully pulpit. Every major broadcast and cable outlet carried his opening remarks and the news conference.
The president has a lot of work ahead of him as he tries to convince Americans that this proposal is the appropriate jolt the economy needs. A CNN/Opinion Research Corporation Poll released just hours earlier showed that 54 percent of Americans support the stimulus bill that passed the Senate, while 45 percent oppose it.