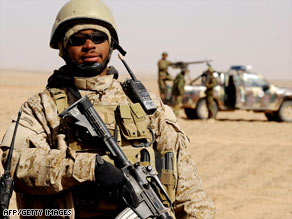 A U.S. soldier stands guard as policemen destroy poppy fields in Nadi Ali district, February 5, 2009.
WASHINGTON (CNN) - Decisions about withdrawing troops from Iraq and sending more troops to Afghanistan have been delayed until the Pentagon provides President Barack Obama with more detail about the risks and implications of the issues confronting him, according to two senior Pentagon officials.
Both officials, who asked not to be named because of the sensitivity of the issue, have a direct understanding of the discussion regarding troop withdrawals. They said the military is not concerned about the delays, but that there is concern about the deteriorating levels of security in Afghanistan.
The officials confirmed that the Pentagon and U.S. Central Command are now working on three Iraq combat troop withdrawal options for the president: 16 months, 19 months and 23 months.