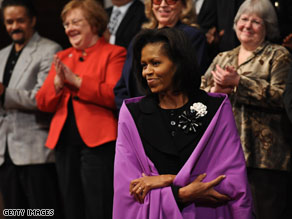 The first lady was given a Native American shawl during her visit to the Interior Department Monday.
WASHINGTON (CNN) - President Barack Obama intends to add a senior policy adviser for Native American affairs to his White House staff shortly, first lady Michelle Obama revealed Monday.
The first lady made the announcement while speaking to employees at the Interior Department - the latest stop in her ongoing meet-and-greet tour of federal departments and agencies.
"Barack has pledged to honor the unique government-to-government relationship between tribes and the federal government," she said. The new senior staffer "will be tasked to work with tribes (on) issues such as sovereignty, health care (and) education - all central to the well-being of Native American families and the prosperity of tribes all across this country."
Repeating a theme from her earlier visits to the Education and Housing and Urban Development departments, the first lady also said she wanted to thank to the Interior Department's staffers at the outset of the new administration.
"The issues that you're working on, as you know, affect us all," she noted. As "stewards of America's greatest assets, from our parks and forests to mountains and rivers, you're charged with sacred task of ensuring that America's resources are used responsibly and protected for future generations.
"As you begin the hard work of taking this department into a new era of excellence, I wanted to come by again to simply say thank you."
The first lady indicated that the Interior Department will play a critical role in one of the administration's "highest priorities - securing America's energy future." In an economic downturn, she said, "sound energy and environmental policies are going to help create thousands of jobs."
Obama also referenced the first family's recent weekend visit to Camp David, the presidential retreat in Maryland's Catoctin Mountains.
"Barack and I and the girls, as you may have read, just had a little retreat away. We visited Camp David for the first time and got to experience the beauty of those grounds, and it was just wonderful to get a bit of a break and to spend some quality time as a family in nature," she said.
Obama concluded her remarks by noting that the Interior Department has "great leaders in Secretary (Ken) Salazar and President Obama."
"I love to say that," she added a few seconds later to thunderous applause and laughter.
Her appearance marked the first time in more than 12 years that a first lady has visited the Interior Department.