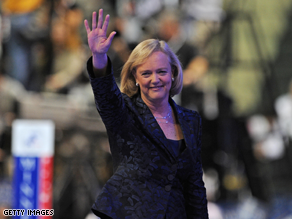 Whitman wants to be California's next governor.
(CNN) - Meg Whitman, the former CEO of eBay, announced Monday she's interested in running for governor of California, setting up what's likely to be among the most hotly contested gubernatorial races in 2010.
Whitman, a Republican, announced on her Web site she is establishing an exploratory committee to seek the state's top post - the traditional first step before a full campaign is launched.
In the statement announcing the committee, Whitman made clear she will stress her economic credentials and business acumen to help the state weather through its waning economy.
"California faces challenges unlike any other time in its history – a weak and faltering economy, massive job losses, and an exploding state budget deficit," she said in the statement. "California is better than this, and I refuse to stand by and watch it fail."
Though she's never held elective office, Whitman is no stranger to politics. She served as a high-profile surrogate for John McCain's presidential bid, and was considered to a potential choice for the Arizona senator's running mate.
Forbes Magazine valued Whitman's worth at $1.4 billion in 2007.
Two other Republicans have already formally expressed interest in running for the seat - Former Rep. Tom Campbell and current California insurance commissioner Steve Poizner, another former Silicon Valley CEO.
Whitman could also face California Sen. Diane Feinstein in a general election match up, though Feinstein has yet to say one way or another if she is running.
Other Democrats who are reportedly considering running for the post include San Francisco Mayor Gavin Newsom and Los Angeles Mayor Antonio Villaraigosa.
Current California Gov. Arnold Schwarzenegger is prevented from seeking reelection due to term limits.