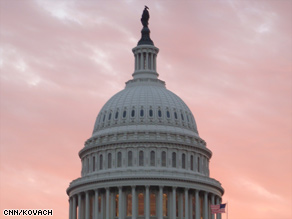 CNN: Official: Bailout overhaul will include public-private partnerships to ease lending
Partnerships with the private sector — aimed at restoring the flow of credit to families and businesses– will be a key feature of an overhaul of the $700 billion financial bailout to be announced by Treasury Secretary Tim Geithner on Tuesday morning, according to a senior White House official.
CNN: Obama: This isn't your 'run-of-the-mill recession'
President Obama appeared before a national audience Monday night to make the case for his economic stimulus plan, saying this is not your "run-of-the-mill recession.
CNN: Obama to talk economy in GOP stronghold
When Air Force One touches down in Fort Myers, Florida, Tuesday morning, the weather will be different than northern Indiana. Little else will be.
CNN: Obama: U.S. looking for dialogue with Iran
The United States is looking for opportunities for "face-to-face" dialogue with Iran after nearly three decades without diplomatic ties, President Barack Obama said Monday, but still has "deep concerns" about Tehran's actions.

CNN: Poll finds Obama more popular than his stimulus package
A new national poll suggests that three out of four Americans approve of the job Barack Obama is doing as president, but the economic stimulus package he's trying to push through Congress is not nearly as popular.
CNN: GOP: What bipartisanship?
The campaign arm of Senate Republicans wasted little time Monday night calling into question President Obama's commitment to bipartisanship, and took a swipe at him for his stimulus proposal.
CNN: MSNBC host considering Florida Senate bid
MSNBC host Joe Scarborough, a former Republican congressman, is leaving open the possibility of running for outgoing Florida Sen. Mel Martinez's seat in 2010.
Washington Post: Starting Public-Sector Jobs With Parting Gifts in Hand
As part of his battle against excessive pay packages, President Obama has taken aim at golden parachutes - those hefty lump sums that top executives cart away when they leave a job. But the practice is so entrenched that many of the president's own top recruits for White House positions are receiving generous severance packages from their previous employers.
Washington Post Op-Ed: John Kerry: A Race Against Time in Afghanistan
No foreign power has remained welcome in Afghanistan for a sustained period, and the British and the Soviets paid a bitter price for trying. Our goal has never been to dominate Afghanistan but, rather, to eliminate al-Qaeda's haven and to empower Afghans to govern their country in line with their best interests and our national security.
WSJ: HHS Candidate Draws Fire, Fights Back
Health-care advocates are actively campaigning to persuade Barack Obama to cross a leading candidate off his short-list for secretary of Health and Human Services: Tennessee Democratic Gov. Phil Bredesen. And, in an unusual move for an official under consideration, the governor is fighting back publicly.
Washington Post: At His First Prime-Time News Conference, Obama Is Serious and Expansive
In a prime-time debut for the new Oval Office occupant and a press corps often accused of being too enamored of him, President Obama faced journalistic skepticism from the opening question.
The Hill: Ohio LG files exploratory for Senate race
Ohio Lt. Gov. Lee Fisher has filed an exploratory committee for his state's open Senate seat in 2010, taking a major step toward becoming the first major Democratic candidate in the race.
WSJ: Plouffe to Donate Speaking Fee to Pro-Democracy Groups
President Barack Obama's former campaign manager intends to give away the fee he received from a paid private speech he made Monday in the oil-rich but authoritarian nation of Azerbaijan.
Realclearpolitics.com: Obama and the Permanent Campaign
Today, Barack Obama has returned to the campaign trail. He is in Elkhart, Indiana. Tomorrow he will be in Fort Meyers, Florida. Two swing states. Meanwhile, he has launched "Organizing for America," run through the Democratic National Committee, and he has mobilized it on this stimulus bill.
The Hill: Lawmakers skip taxes on family travel
Many members of Congress may have a Tom Daschle problem.