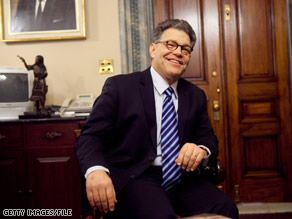 Franken said the bill is flawed but he would vote for it.
(CNN) - Erstwhile Minnesota senate hopefuls Norm Coleman and Al Franken can't vote on the stimulus package currently before Congress, but that's not stopping them from weighing in from afar.
Not surprisingly, their opinions are split along party lines: Coleman thinks the bill won't do enough to boost the struggling economy, while Franken calls the legislation flawed but necessary.
"There are aspects of the final package that I'm not happy with," Franken wrote in the Minneapolis Star-Tribune, complaining that the removal of state aid from the legislation will lead to municipal layoffs.
"That said, this is a good and necessary bill, and were it not for the current election contest, I would be voting for it today," he wrote.
In a dueling op-ed, Coleman agreed with Republicans on the Hill who say the bill lacks bipartisan consensus and won't succeed without the overwhelming support of the American people.
Coleman wrote that Democrats are "rushing out of the gate and ramming through a massive spending bill."
"Unfortunately, not enough has been done by all parties to fix the Senate version of the bill, and the product to be voted on in the coming days will not pass with the confidence of the Senate nor of the American people," he wrote.