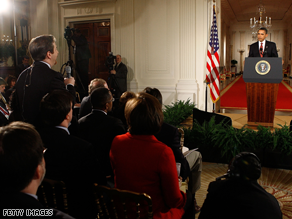 Obama poked fun at his vice president.
(CNN) - During his prime time press conference, President Obama couldn't help but take a slight dig at his at-times off message vice president.
Asked about Vice President Joe Biden's recent remark in reference to the stimulus bill saying there's a "30 percent chance we're going to get it wrong," Obama immediately grinned.
"I don't remember exactly what Joe was referring to. Not surprisingly," Obama said as the gathering of reporters laughed.
Biden made the remark to congressional Democrats at their annual retreat earlier this month, according to the Wall Street Journal.
Watch: Obama takes on critics over pork
"I wouldn't describe any numerical percentage to any of this…given the magnitude of the challenges that we have, any single thing that we do is going to be part of the solution, not all of the solution," Obama went on to say.