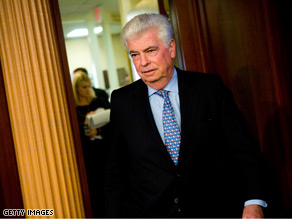 Sen. Chris Dodd is chairman of the Senate Banking Committee, which has oversight over the banking industry and mortgages.
(CNN) - A new poll of Connecticut voters could raise alarm bells for Sen. Chris Dodd as he looks ahead to his re-election bid next year.
Fifty-one percent of registered voters in Connecticut questioned in a Quinnipiac University survey released Tuesday say they definitely won't or probably won't vote for Dodd in November 2010, when the five-term Democratic senator is up for re-election. Forty-two percent say they'll definitely or probably vote for Dodd.
Only 41 percent of those surveyed approve of the way Dodd is handling his job, with 48 percent disapproving. That's Dodd's worst approval rating ever in Quinnipiac University polling.
"The numbers are encouraging for Republicans because this is the kind of seat that the GOP would love to bring into play in 2010. Republicans can't afford to just go after the usual suspects. They need to take a shot at some of the more Democratic states if they want to make gains in the Senate," says Nathan Gonzales, political editor of the Rothenberg Political Report, a non-partisan analysis of U.S. politics and elections.
"Republicans are starting the cycle with the scenario that Senator Dodd is vulnerable. We'll have to wait a little while to see if these numbers continue through the year and if the Republicans can get a good challenger. Former GOP Congressman Rob Simmons is considering jumping into the race and he could make the contest competitive," he adds.
The survey also suggests that a majority of Connecticut voters, 54 percent, say they are not satisfied with the senator's response to allegations that he received preferential mortgage treatment, with 24 percent saying they are satisfied with Dodd's explanation. Fifty-six percent indicate they are less likely to vote for Dodd in 2010 because of the controversy. And voters are split on whether Dodd is honest and trustworthy.
Dodd is chairman of the Senate Banking Committee, which has oversight over the banking industry and mortgages. Dodd's two mortgages through Countrywide Financial Corporation's VIP program are being investigated by a Senate ethics panel. The senator said he sought no special treatment from Countrywide when he refinanced his Washington, DC and Connecticut homes six years ago. He acknowledged participating in the VIP program, but Dodd said he thought the program gave upgraded customer service rather than reduced rates.
"It's still early in the cycle, and if voters are dissatisfied with Dodd's explanation, he still has time to make his case," says Gonzales. Some incumbents that look vulnerable in February of an off year end up not being vulnerable in the home stretch, and vice versa.
Dodd was re-elected to his seat in 2004 by a better than 2 to 1 margin over his Republican opponent. He spent much of 2007 and the first month of 2008 in a failed bid for the Democratic presidential nomination.
The Quinnipiac University poll was conducted February 4-8, with 1,603 registered voters in Connecticut questioned by telephone. The survey's sampling error is plus or minus 2.5 percentage points.