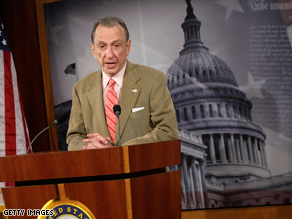 Specter is one of three Republicans supporting the bill.
WASHINGTON (CNN) - A conservative group is robo-calling voters in Pennsylvania and Maine, urging them to call their Republican senators and demand they stop supporting President Obama's stimulus package.
In a last-minute effort to force Republican senators Arlen Specter, Olympia Snowe and Susan Collins into voting against the bill, Delaware-based 'Let Freedom Ring' began running 100,000 robocalls Tuesday in Pennsylvania and 50,000 more calls in Maine, according to Colin Hanna, the group's president.
The Senate vote could come as early as this afternoon, and the measure is expected to pass with the support of the three Republican senators who helped craft the legislation.
"Would you be willing to contact your senator Arlen Specter today and tell him to vote no on the Obama tax and spend plan?" the Pennsylvania call asks, before providing a phone call for Specter's Washington office.