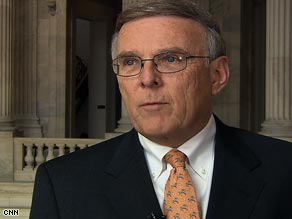 Democratic Sen. Byron Dorgan wants more transparency in how stimulus money will be spent.
WASHINGTON (CNN) - As President Obama warned of "catastrophe" if the government doesn't spend more than $800 billion to recharge the failing economy, some lawmakers equated the measure to "theft."
"This is more money that's ever been contemplated in the history of our country," said Democratic Sen. Byron Dorgan.
Republican John McCain calls the bailout "generational theft," a transfer of wealth from future generations to today's leaders.
"We are robbing future generations of Americans of their hard-earned dollars because we are laying on them a debt of incredible proportions," he said.
The numbers are staggering. Obama's package is more than $800 billion. President Bush's bailout plan was $700 billion. Add to trillions promised by the government in loans and potential spending to soothe the financial crisis. It all equals a mind-boggling sum, not including the interest on all that money.
President Obama appeared before a national audience Monday night to make the case for the roughly $838 billion economic stimulus plan.