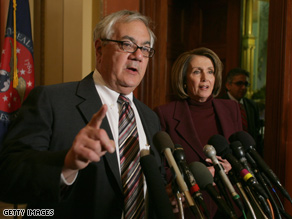 Rep. Barney Frank is chairman of the House Financial Services committee.
WASHINGTON (CNN)– The chief executive officers of eight of the nation's largest banks will defend the use of hundreds of billions of dollars in bailout money to lawmakers on Capitol Hill Wednesday.
The CEO's of Bank of America, JP Morgan Chase, Citigroup, Goldman Sachs, Wells Fargo, Morgan Stanley, Bank of New York and State Street Corp. recently came under scrutiny after being accused of using bailout money from the Troubled Asset Relief Program to fund bonuses and lavish vacations.
"American people are right to expect that we use funds responsibly, quickly and transparently to help American families, businesses and communities," Vikram Pandit, CEO of Citigroup is expected to say before the House Financial Services committee, according to prepared remarks. "They also have a right to expect a return on this investment."
Recently the ailing bank received $45 billion in government bailout money which Pandit will explain that $35.6 billion has gone toward new programs and "lending initiatives."
"We have every incentive to lend," Kenneth D. Lewis, Chairman and CEO of Bank of America is expected to say Wednesday. "And, despite recessionary headwinds, we are lending."
Bank of America is expected to make its first return to the Treasury next week of $400 million according to Lewis.
"We intend to pay all the TARP funds back as soon as possible," Lewis is expected to say.
Sharing a common theme as the new Obama administration, each of the executives plan to harp on accountability and transparency, while defending their use of the capital.
"We have not used [TARP funding] to pay compensation, nor did we use it to pay any dividends or lobbying costs," John J. Mack, Chairman and CEO of Morgan Stanley is expected to tell the committee.
Lloyd C. Blankfein, Chairman and CEO of Goldman Sachs, which received $10 billion of capitol is expected to say the company has already dedicated $13 billion in new financing since October 27.
"While the firm produced a profit of $2.2 billion in 2008, our revenues were down considerably," Blankfein is expected to say, according to prepared testimony. "Compensation across the firm, dictated by our policies and practices, reflected that. End of year bonuses were down on average 65 percent," with more senior members being down "approximately 75 percent."
The underlying message each executive will convey is the understanding of the "serious responsibilities" the banks undertook when they negotiated with the Treasury Department and their full cooperation and intent to repay each dollar.
This meeting comes a day after Treasury Secretary Tim Geithner announced a plan to overhaul TARP to in part tighten the terms of further aid to banks and demand greater accountability. Last week, the administration unveiled a plan to restrict CEO pay at firms receiving government assistance.