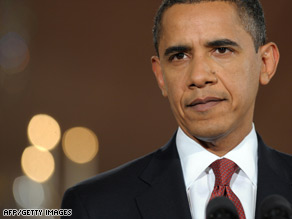 President Obama has chosen pragmatism over ideology as he has navigated the stimulus debate.
WASHINGTON (CNN) - It is not unusual for a presidential candidate to try to win friends and influence voters. That's what elections are about, so we tend to excuse political posturing when we see it - because we have come to expect a certain amount of it. Besides, we like people who pay attention to us.
But once a president becomes president, we expect other things. We expect him to keep his promises (particularly if we liked them). We expect action and decision. And, most of all, we expect to come to learn who he is, and where he really stands - by virtue of what he decides.
And what we've been watching over the last few weeks is just that: the very public development of a new president who is more pragmatic than ideological by nature, testing his instincts against the divided realities of Washington.
It's been a balancing act - in which we've seen President Obama as both cheerleader and Chicken Little, as a partisan Democrat and a bipartisan negotiator and, finally, as both an insider leading a well-worn Washington-dominated Cabinet and an outsider railing against Washington's business as usual.
In many ways, the deck has been stacked against the president's instincts: Washington hasn't been hospitable to bipartisanship for decades.