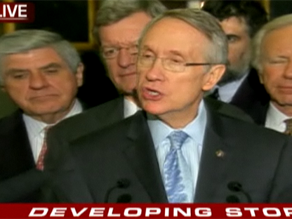 Senate Majority Leader Harry Reid announced Wednesday a House-Senate deal has been reached on the stimulus.
WASHINGTON (CNN) - House and Senate negotiators have reached agreement on an economic recovery bill, Senate Majority Leader Harry Reid said.
Watch: 'This is the right thing to do,' senator says
"The bills were really quite similar, and I'm please to announce that we've been able to bridge those differences," said Reid, the Senate Majority Leader.
"Like any negotiation, this involved give and take, and if you don't mind my saying so, that's an understatement," he said.
Negotiators worked late into the night to iron out differences between the two versions of the stimulus bill.