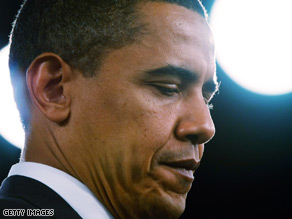 Join the conversation on Jack's blog.
"Has Barack Obama's presidency already failed?" That's a rather startling question posed in the Financial Times. Columnist Martin Wolf writes how in normal times, this would be a ludicrous statement, but because we're living in times of "great danger" it's worth taking a look.
He says that right now a lot of the blame is still being heaped on the previous administration, but if the Obama administration doesn't act swiftly and strongly enough it will inherit the blame. "Doing too little is now far riskier than doing too much," Wolf writes. Wolf suggests that if the president can't fix the economic meltdown the rest of his presidency is pretty much over.
To read more and contribute to the Cafferty File discussion click here