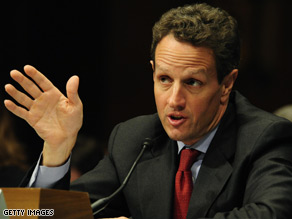 Treasury Secretary Geithner testified before the Senate Banking Committee Wednesday.
NEW YORK (CNNMoney.com) - A day after unveiling his new financial rescue plan, Treasury Secretary Tim Geithner again went before Congress to defend it.
Watch: Geithner grilled on bailout
Geithner's revised bailout was met with disappointment on Wall Street and with some lawmakers who thought Treasury's plan was lacking in details.
At a hearing held Wednesday by the Senate Budget Committee, senators pressed Geithner to give more specifics about Treasury's new bailout efforts.
"The market has made clear that certainty and stability are commodities of great demand; unfortunately, that is not what we received yesterday," said Sen. Jeff Sessions, R-Ala. "Secretary Geithner, you need to give a detailed plan in clear terms of how we are to proceed. You've had more than a month to work on the proposal, but what we've heard is an outline."
"I hope you can use the hearing today to put some meat on the bones," Sessions added.