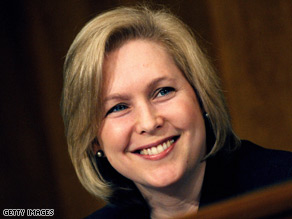 (CNN) - New York Gov. David Paterson announced Wednesday that a special election to fill Senator Kirsten Gillibrand's former House seat will take place on March 31.
Gillibrand represented New York's 20th congressional district until last month, when she was tapped to replace the departing Hillary Clinton in the Senate.
The special election pits Democrat Scott Murphy, a venture capitalist, against Republican Jim Tedisco, the New York General Assembly minority leader.
Both national parties are likely to pump resources into the race - but new Republican National Committee Chairman Michael Steele has vowed to compete especially hard in the traditionally conservative district.
Steele told PolitickerNY earlier this month that the contest will be "a battle royale."