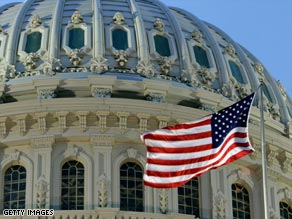 House and Senate negotiators are working to hammer out differences in a roughly $800 billion stimulus package.
WASHINGTON (CNN) - Democrats are optimistic about getting a House-Senate stimulus deal by Wednesday afternoon, a Democratic leadership source told CNN.
A conference committee meeting is set to be held Wednesday afternoon to start officially drawing up the legislation.
Meetings with centrist senators and Democratic leaders, which lasted for about nine hours Tuesday, are expected to begin again later Wednesday morning.
The House and Senate have passed two different versions of the economic stimulus bill. Before the bill can be signed into law, the two chambers must reconcile their differences and pass a final version of the package.
President Obama wants the bill on his desk by Presidents Day, which is next Monday.