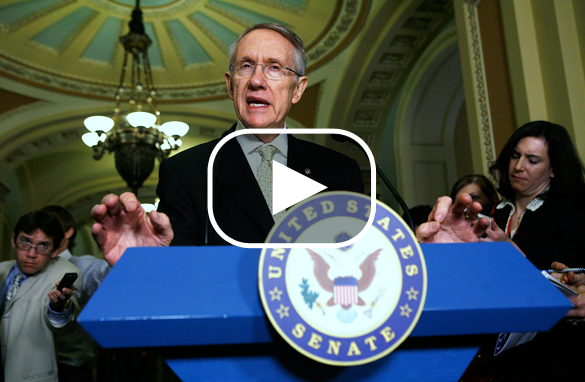 Senate Majority Leader Harry Reid said Wednesday an agreement has been reached between the House and Senate on the stimulus bill, but is there a deal? (GETTY IMAGES)

(CNN) - Congress is set to send a $789 billion economic stimulus package to President Obama's desk by Monday after lawmakers worked around a disagreement over education funding in the package.
The stimulus deal was struck Wednesday after another furious day of negotiations on Capitol Hill involving House and Senate leaders, Obama administration officials and a trio of moderate Republicans.
The agreement represents a deal that everyone can live with, Democratic leadership sources said.
Sen. Max Baucus, chairman of the Senate Finance Committee, said it is possible the House of Representatives could take up the bill as early as Thursday and the Senate possibly Friday, meeting Obama's timetable of having the bill on his desk by Presidents Day, which is Monday.