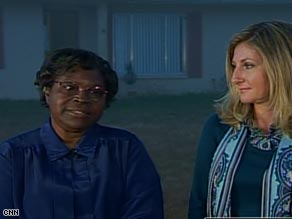 Henrietta Hughes, left, and Chene Thompson talk on the lawn of the home Thompson is letting Hughes use.
(CNN) - Acts of kindness will help pull the nation through its economic crisis, according to the woman who came to the rescue of a homeless Floridian who publicly appealed to President Obama.
Related video: 'Please help,' Hughes asks Obama
Chene Thompson, the wife of state Rep. Nicholas Thompson, R-Fort Myers, is letting Henrietta Hughes and her son stay in a house she owns in nearby La Belle rent free until they get back on their feet.
Watch: Hughes, Thompson on American Morning
"You don't have to be a politician to put forth a stimulus package," Chene Thompson said during a joint interview with Hughes Thursday on CNN's "American Morning." "This is our own little mini-stimulus package for a person who was a stranger and now is a friend.
"Anybody can help anybody at any time. It doesn't need to be something that comes from Washington; it can come from your own home and from your heart, even if it's for a little bit."
Hughes emerged from the crowd at Tuesday's town hall meeting in Fort Myers to tell Obama she and her son were living in a car and needed immediate help. The president asked her name, kissed her on the cheek and promised his staff would work with her.
Thompson, who was in the audience, stepped forward afterward to offer Hughes her vacant house, which the Thompsons had to leave because it is outside her husband's legislative district.