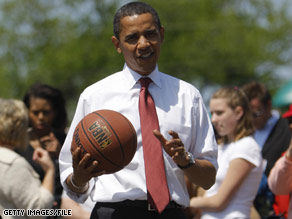 The President recently refused to predict a winner in a face-off between two North Carolina college basketball teams.
(CNN) - Apparently ever the consensus-builder, President Barack Obama avoided taking sides in the perennial feud that is the Duke-North Carolina men's college basketball rivalry.
President Obama was meeting with a group of regional reporters Wednesday to pitch his stimulus package - just hours before the Tobacco Road showdown in Durham, North Carolina - when the topic of the game came up, according to the Raleigh News and Observer.
The President, a basketball star in high school, declined to take a position.
At first, Obama hinted he might side with the Duke Blue Devils. He said team was "coming off one of the worst losses it has had in several years," a blowout loss to Clemson last week that coach Mike Krzyzewski might have used as motivation in practice.
"They might be fired up," Obama said. "I hope it's a close game."
But even though he famously scrimmaged with the Tar Heels before the state's primary last year, Obama also declined to support the University of North Carolina. Why? He pointed to his personal aide, Reggie Love, who played at Duke.
"If I said anything contrary to Duke, I might not be able to find my Blackberry," he joked.
North Carolina won the game, 101-87.
Updated 9:43 a.m.