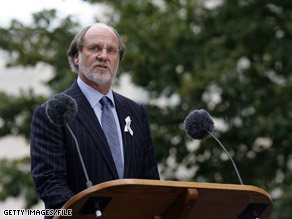 Fifty-one percent of New Jersey voters disapprove of Gov. Corzine's job performance, according to a new poll released Thursday.
WASHINGTON (CNN) - A new poll suggests that New Jersey Gov. Jon Corzine's bid for re-election this year is getting tougher.
A Monmouth University/Gannett NJ survey released Thursday indicates that 51 percent of New Jersey voters disapprove of Corzine's performance, while only 34 percent approve of how he is handling his job.
The poll also suggests that only one in five New Jersey voters think their state is headed in the right direction.
Another poll released earlier this month by Quinnipiac University showed Christie leading Corzine in a hypothetical match-up by a 44 to 38 margin. That's a 12 point turnaround from a previous Quinnipiac poll of the race conducted in November that showed a 42 to 36 lead for the incumbent.
National Republicans are eager for wins this November in New Jersey and Virginia, the two states holding off-year elections. Both contests are often seen as a referendum on the party in power which is now the Democrats.
"The poor economy may also make this a tough year for incumbents from either party," said CNN Polling Director Keating Holland. "Even though New Jersey hasn't voted Republican for governor, senator or president in 12 years, the economy could make trouble for the incumbent even though he is a Democrat."
A few states south, Republicans are hoping to regain control of the Virginia governor's seat. Virginia Gov. Tim Kaine is term limited and Virginia Republicans are fielding their strongest candidate in years with Attorney General Bob McDonnell. McDonnell does not have a primary challenge, while three Democratic candidates in the commonwealth battle it out to win their party's nomination.
The Monmouth University/Gannett NJ poll comes as former New Jersey Gov. Tom Kean Sr. is endorsing fellow Republican Chris Christie for governor in this year's contest. Christie recently stepped down as U.S. Attorney for New Jersey to campaign full-time for governor. It was conducted February 2-8, with 803 state residents questioned by telephone. The survey's sampling error is plus or minus 3.5 percentage points.