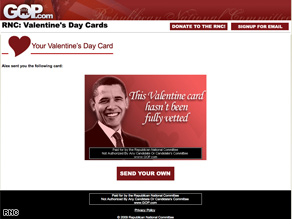 Valentine's Day greeting from the RNC.
WASHINGTON (CNN) – Female political reporters and producers who may be without a Valentine this year are in luck - at least if they're on the Republican National Committee press list.
Alex Conant, the committee's press secretary for at least another month, sent electronic Valentine's notes to all the ladies on his contact list. The pink and red e-card contained a smiling image of President Barack Obama with the inscription "This card hasn't been fully vetted" - an obvious political nudge to the recent tax problems encountered by some of the president's cabinet nominees.
When asked why he decided to grace selected inboxes with such a heartfelt sentiment, Conant responded the effort was "part of my ongoing campaign to prove that Republicans have hearts too."