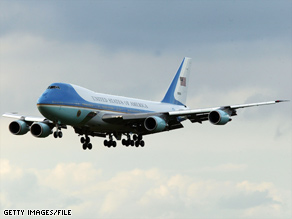 The aircraft, which is longer than the length of a hockey rink, has 4,000 square feet of floor and three levels.
(CNN) - During the first couple of weeks of his presidency, Barack Obama has made good use of his "spiffy" new ride.
The president, who has made several trips around the country in Air Force One, was particularly excited during his first trip on the plane as commander in chief, when he flew to the House Democrats' annual retreat in Williamsburg, Virginia, last week.
"Thanks for giving me a reason to fly Air Force One," he told the House Democrats after his flight, which took him away from a week of fighting for the economic stimulus bill.
Donning a blue jacket with the presidential seal on the right and his name embroidered on the left, Obama came back to the press section of the plane shortly before taking off for Williamsburg.
"Hey guys, what do you think of my - this spiffy ride here?" the president asked the group of reporters traveling with him on the presidential plane.