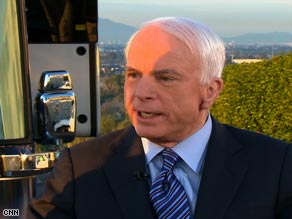 Sen. John McCain says the Obama administration is off to a bad beginning.
(CNN) - Top Republican lawmakers Sunday called on President Obama to change his political strategy, arguing that the passage of a massive stimulus bill on a party-line vote showed he has failed to deliver the "change" he promised.
"If this is going to be bipartisanship, the country's screwed," Sen. Lindsey Graham, R-South Carolina, told ABC's "This Week." "I know bipartisanship when I see it."
Sen. John McCain, R-Arizona, said Obama was off to "a bad beginning," out of step with the vow of bipartisanship both men made after Obama beat out the Republican presidential nominee for the White House in November.
"It was a bad beginning because it wasn't what we promised the American people, what President Obama promised the American people, that we would sit down together," McCain told CNN's "State of the Union With John King."
The $787 billion bill made it through Congress with the support of three Republicans - Sens. Susan Collins and Olympia Snow of Maine and Arlen Specter of Pennsylvania. Obama is expected to sign the bill Tuesday in Denver, Colorado.
"This is not 'change we can believe in,' " Graham, a member of the Senate Banking Committee, told ABC. He said Democrats "rammed it through the House" after starting out "with the idea, 'We won - we write the bill.' "