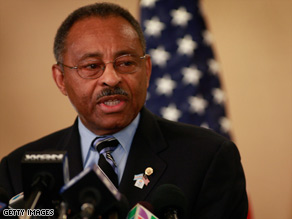 Sen. Roland Burris says he never made an inconsistent statement to lawmakers probing Illinois' former governor.
CHICAGO, Illinois (CNN) - Illinois Republican leaders on Sunday called for a perjury investigation of Sen. Roland Burris, questioning if he "purposely deceived the public" last month by failing to tell state lawmakers that then-Gov. Rod Blagojevich's brother solicited him for campaign cash.
Burris confirmed Sunday that Blagojevich's brother, Rob, asked him to contribute or help raise money before the governor tapped Burris on December 30 to fill President Barack Obama's vacated Senate seat.
"I made clear to him I would not contribute [to the governor's campaign] because it would be inappropriate because I had expressed my interest in the Senate seat," Burris, a Democrat, told reporters at a news conference. "I did not donate one single dollar."
Burris has come under fire for leaving out the conversations during his January 8 testimony before the Illinois House impeachment panel investigating the governor. He emphasized Sunday that he addressed those conversations in an affidavit he submitted this month to supplement his testimony.