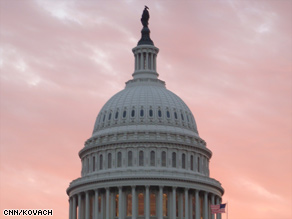 WASHINGTON/POLITICAL For the latest political news: www.CNNPolitics.com.
CNN: White House Braces for Auto Makers Seeking Federal Funds
As auto giants General Motors and Chrysler face Tuesday's deadline to submit plans to show the government how they can repay billions in federal loans, the White House is creating a Presidential Task Force on Autos to oversee the restructuring of the auto industry, a senior administration official said.
CNN: Illinois Republicans want perjury probe for Burris
Illinois Republican leaders on Sunday called for a perjury investigation of Sen. Roland Burris, questioning if he "purposely deceived the public" last month by failing to tell state lawmakers that then-Gov. Rod Blagojevich's brother solicited him for campaign cash.
CNN: GOP senators say Obama off to bad start
Top Republican lawmakers Sunday called on President Obama to change his political strategy, arguing that the passage of a massive stimulus bill on a party-line vote showed he has failed to deliver the "change" he promised.
CNN: 'Things have not yet bottomed out,' Obama aide says While the White House basks in passage of the $787 billion stimulus package intended to jump start the nation's sagging economy, a senior aide to President Obama is also sounding a note of caution about the immediate impact of the legislation.
CNN: Aide: Scrutiny from NBA greats would make Obama 'nervous'
Basketball is one of President Barack Obama's primary stress relievers, according to White House Press Secretary Robert Gibbs. In fact, the President plans to spend some time on the court this weekend with friends in Chicago, Gibbs said Sunday on CNN's State of the Union. 
NYT: Obama Confronts a Choice on Copters
President Obama has slammed high-flying executives traveling in cushy jets at a time of economic turmoil. But soon he will have to decide whether to proceed with some of the priciest aircraft in the world — a new fleet of 28 Marine One helicopters that will each cost more than the last Air Force One.
Weekly Standard: Obama levitates but the train goes off the rails
One of many highlights of the stimulus bill the Democrats just rammed through Congress is $8 billion for high-speed rail. What makes this appropriation special is that there was no money for high-speed rail in the original House legislation. The Senate bill had $2 billion. The legislation coming out of conference "compromised" on $8 billion.
LA Times: Iraq's young jobless threaten stability, report says
More than a fourth of Iraq's young men are out of work, a situation that is likely to worsen and threatens the country's long-term stability, according to a dismal economic forecast Sunday from U.N. and nongovernmental agencies.
Washington Times: Ken Starr: Obama's Supreme Court picks will face trouble
Kenneth W. Starr has a warning for the Obama administration: What goes around comes around.
NATIONAL/INTERNATIONAL
For the latest national and international news: www.CNN.com.
CNN: Clinton heads to Asia on first state trip
Hillary Clinton says her first overseas trip to Asia as U.S. secretary of state is aimed at creating a "network of partners" to tackle problems that no nation can deal with alone, including the global economic crisis.
CNN: Afghanistan to help review U.S. war on terror
Afghan President Hamid Karzai said Sunday that his country would join the strategic review of the U.S.-led war on terrorism.
CNN: Venezuela's Chavez declares victory in term-limits referendum
Venezuelan President Hugo Chavez declared victory Sunday night in a constitutional referendum that will allow him to run for a third six-year term in 2012.
NYT: U.S. to Study Effectiveness of Treatments
The $787 billion economic stimulus bill approved by Congress will, for the first time, provide substantial amounts of money for the federal government to compare the effectiveness of different treatments for the same illness.
Washington Post: HHS Vacancy Stalls Health Agenda, Advocates Say
When Thomas A. Daschle, embroiled in controversy over failing to pay more than $100,000 in back taxes, stepped down two weeks ago as director of the White House Office on Health Reform and withdrew his nomination to be secretary of health and human services, it left a gaping hole in President Obama's leadership team, one that health-care advocates say has stalled what they hoped would be speedy action on high-priority measures.
BBC: N Korea claims 'space programme'
North Korea has asserted its right to a "space programme", amid speculation that it plans to launch a missile test.
WSJ: Taliban Agree to Pakistan Cease-Fire
The Taliban announced Sunday a 10-day cease-fire in the northwestern Swat Valley after Pakistani authorities agreed to impose Islamic law in the region, where militants have made major gains against government forces in recent months.
BUSINESS
For the latest business news: www.CNNMoney.com.
Forbes: Asian Stocks Stumble To Open Week
U.S. Secretary of State Hillary Clinton was greeted by more evidence of an economic chill in Japan, the first stop of her weeklong diplomatic sweep through Asia. Official data showed the Japanese economy shrank at the fastest pace in over three decades in the last quarter, throwing Tokyo stocks into the red. Other Asian markets didn't fare much better, on losses among Hong Kong banks, Australian miners and other exporters.
LA Times: One vote shy, state budget still in limbo
Ending a weekend marathon of tense negotiations, bleary-eyed state lawmakers late Sunday suspended their bid to plug California's $41-billion deficit but vowed to continue working today to halt the state's dizzying slide toward financial collapse.
Financial Times: Total says oil output near peak
The world will never be able to produce more than 89m barrels a day of oil, the head of Europe's third largest energy group has warned, citing high costs in areas such as Canada and political restrictions in countries like Iran and Iraq.
Boston Globe: Figuring out whether to take a buyout is tough, but answering a few questions can make it easier
With the economy in tatters, a growing number of people are being offered buyout packages by cash-strapped employers hoping to cut expenses without resorting to layoffs.
WSJ: Bankers Face Strict New Pay Cap
The giant stimulus package that cleared Congress Friday includes a last-minute addition that restricts bonuses for top earners at firms receiving federal cash - including those that already received it - more severely than the Obama administration's previous pay limits.
In Case You Missed It
To watch the latest interviews and reporting: http://www.cnn.com/video.
CNN's John King discusses the stimulus with Sen. John McCain.
CNN's John King talks basketball and policy with WH Press Secretary Robert Gibbs.
CNN's Fareed Zakaria sits down with President Karzai to discuss the future of the U.S. in Afghanistan.
President Obama will sign the economic stimulus bill Tuesday. CNN's Suzanne Malveaux reports.
CNN's John King sat down with Bill Russell, Earvin "Magic" Johnson and others to analyze the president's basketball game.