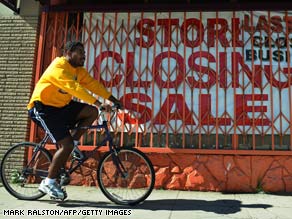 Join the conversation on Jack's blog.
President Obama may have signed that massive stimulus bill into law today, but the scary part is it's not clear if the almost $790 billion in government spending will be enough to do the trick.
The stock market tanked this morning, dropping 230 points in the first 90 minutes of trading. The stock market is now close to its lowest level in ten years. Investors are nervous that the stimulus plan won't have the kind of impact it needs to begin to turn the economy around. Wall Street also gave a thumbs down to Treasury Secretary Geithner's banking plan last week.
Then there's Detroit. GM and Chrysler are set to tell the government today how they plan to stay afloat, they've already gotten more than $17 billion in government loans. If they can't prove how they'll survive in the future, they may not get any more.
To read more and contribute to the Cafferty File discussion click here