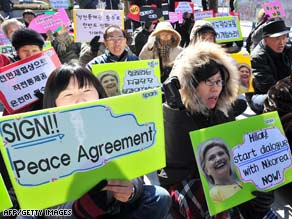 Anti-war activists hold placards during a rally near the U.S. embassy in Seoul on Tuesday.
TOKYO, Japan (CNN) - U.S. Secretary of State Hillary Clinton made her strongest comments yet about North Korea Tuesday during her tour of Asia.
Speaking at a news conference with Japanese Foreign Minister Hirofumi Nakasone, the U.S. secretary warned that a possible North Korean missile launch "would be very unhelpful in moving our relationship forward." Clinton said the U.S. is "watching very closely" actions by North Korea.
U.S. officials recently said they obtained evidence that North Korea was gearing up for a launch of a long-range missile.
North Korean officials disputed the claim, saying in the country's official news agency that North Korea was preparing to launch a satellite.