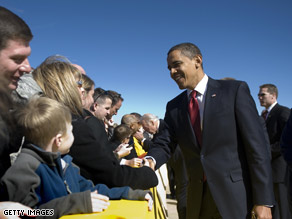 The President greeted supporters at an Air Force base near Denver, Colorado Tuesday before signing the $787 billion stimulus bill.
WASHINGTON (CNN) - President Obama will pitch his plans this week for dealing with record home foreclosures and trying to thaw frozen credit markets - and taking some key lessons learned into consideration.
Aides said the White House has learned several lessons from the fight over the economic stimulus plan, including that the president is better at selling his ideas when he gets out of Washington.
"He has learned, over the course of the last few weeks, getting out to the country, getting the people to remember why they elected him, and I think he's going to continue to take the case directly to the American people," said CNN contributor Hilary Rosen.
A second lesson was articulated to a handful of newspaper columnists, including E.J. Dionne of The Washington Post, who were invited aboard Air Force One on Friday.
The president suggested he will no longer let bipartisanship become the barometer of his success, telling the columnist: "You know, I am an eternal optimist. That doesn't mean I'm a sap."
Dionne said, "By talking so much about bipartisanship, he allowed others to judge him by how much Republican support he got. He wants to get things done with or without Republican votes, preferably with them. But he will be happy if he just gets it through."