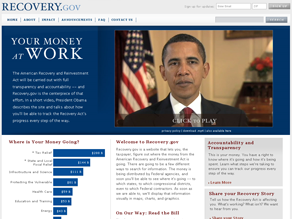 Recovery.gov has launched.
(CNN) - Hours before President Obama was set to sign the $787 billion stimulus measure, the White House launched Recovery.gov, a site that the White House is calling an "unprecedented step to increase transparency in government."
The site aims to break down the massive bill into simpler terms that relate exactly where the money is being directed. It includes a video address from President Obama promoting the benefits of the plan.
The site also includes the full text of the bill itself, and a Frequently Asked Question's section that fields such queries as "How will the recovery plan work?," "How can I see how much recovery money is coming to my community?," and "What type of programs will this recovery package fund?"
"This is your money. You have a right to know where it's going and how it's being spent," the site states.