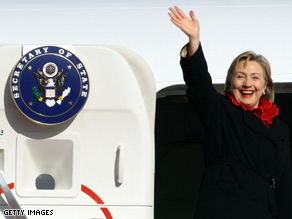 U.S. Secretary of State Hillary Clinton waves upon her departure from Tokyo International Airport on Wednesday.
(CNN) - U.S. Secretary of State Hillary Clinton arrived in Indonesia Wednesday on the second stop of her tour of Asia - her first trip abroad as America's top diplomat.
She's expected to huddle with Foreign Minister Hassan Wirayuda Wednesday evening before meeting with President Bambang Yudhoyono the following morning.
Clinton will "discuss the close and growing partnership with Indonesia and perspectives on common interests in Southeast Asia," according to the State Department Web site.
She began her trip in Japan, where she met with Prime Minister Taro Aso, as well as the foreign and defense ministers.
Clinton left for Asia Sunday and is also slated to travel to China and South Korea to discuss a range of issues, including mutual economic recovery, trade, the prevention of nuclear weapons proliferation and reversing global warming.