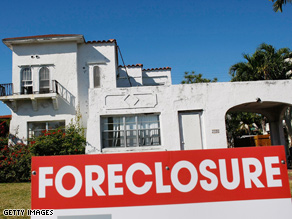 The president unveils his plan to battle foreclosures today.
NEW YORK (CNNMoney.com) - President Obama will unveil his foreclosure prevention plans in Mesa, Ariz., on Wednesday. It's an appropriate place to talk about the U.S. mortgage-default problem: More than half the homes for sale in this sprawling suburban town are distressed properties.
In choosing Arizona, the president ventures to a state suffering from high foreclosure numbers: It had the third-highest rate of foreclosure filings in the nation during 2008, according RealtyTrac, which compiles foreclosure statistics.
Mesa itself, as Mayor Scott Smith often remarks, is the biggest city in the country that nobody knows. It's a young, sprawling bedroom community of Phoenix that has grown explosively since the end of World War II. With 452,933 residents as of July 1 2007, it's now the 38th largest city in the nation: bigger than Cleveland, St. Louis or Oakland.
"Mesa is the largest suburban city in the country," said Scott Butler, the city's director of government relations, "and it's symbolic of how the suburbs have been impacted by foreclosures."