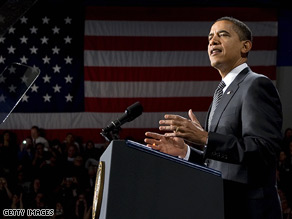 The President announced his plan to help struggling homeowners at an event in Arizona Wednesday.
NEW YORK (CNNMoney.com) - President Obama unveiled a $75 billion multi-pronged plan Wednesday that seeks to help up to 9 million borrowers suffering from falling home prices and unaffordable monthly payments.
Watch: Obama unveils housing plan
The long-awaited foreclosure fix marks a sharp departure from the Bush administration, which relied mainly on having servicers voluntarily modify troubled mortgages.
Obama, on the other hand, will make it easier homeowners to afford their monthly payments either by refinancing the mortgages or having their loans modified. The president is vastly broadening the scope of the government rescue by focusing on homeowners who are still current in their payments but at risk of default. And he puts billions of federal funds into enticing servicers to modify the loans of those who've already stopped paying.
Updated 12:58 p.m.