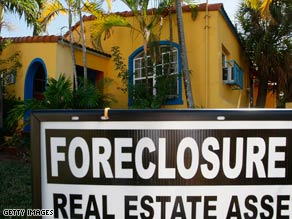 President Obama's $75 billion home foreclosure plan would benefit 9 million borrowers.
WASHINGTON (CNN) - Even before President Obama unveiled his home foreclosure plan Wednesday afternoon, some Republicans and political commentators questioned how exactly it would work to stave off a crisis plaguing the country.
House Republican Whip Eric Cantor, R-Virginia, along with Minority Leader John Boehner, R-Ohio, sent a letter Wednesday to the president "seeking clarification on six important questions about [Obama's] broad housing proposal," according to a press release from Cantor's office.
Obama unveiled his $75 billion multipronged plan in Phoenix, Arizona, that seeks to help up to 9 million borrowers suffering from falling home prices and unaffordable monthly payments.
But there could be fierce resistance among Republicans and some conservative Democrats on Capitol Hill.
Already, top Republicans want several questions answered, an early sign that Obama may once again face stiff opposition to the plan when it comes before Congress. Last week, not one House Republican voted for his economic stimulus package, and only three GOP senators voted for the bill.