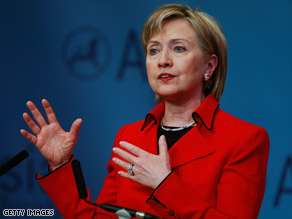 Hillary Clinton has said any North Korean missile launch would be very unhelpful to relations with the U.S.
SEOUL, South Korea (CNN) - U.S. Secretary of State Hillary Clinton headed for South Korea on Thursday on the third leg of her four-nation tour of Asia.
The visit comes at a time of escalating tensions on the Korean peninsula and after U.S. officials cited evidence that North Korea was gearing up for a launch of a long-range missile.
North Korean officials have disputed the claim, saying in the country's official news agency that Pyongyang was preparing to launch a satellite.
But Pyongyang said Thursday that it was ready for an "all-out confrontation" with South Korea, calling President Lee Myung-bak a traitor and accusing him of "frantically inciting hostility" toward North Korea and "kicking up ... war hysteria," North Korea's official Korean Central News Agency said.
Seoul called the North's statement a repeat of past bluster.
"It's seen as an attempt by North Korea to increase uneasiness about security and widen the ideological divide within South Korea," said Kim Ho-Nyun, a spokesman for the South Korean Unification Ministry.
Speaking at a news conference with Japanese Foreign Minister Hirofumi Nakasone this week, Clinton warned that a possible North Korean missile launch would be "very unhelpful in moving our relationship forward."
She said the United States is "watching very closely" actions by North Korea.