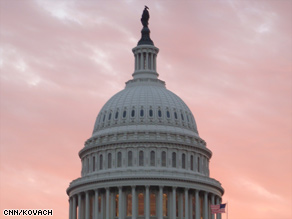 WASHINGTON/POLITICAL
For the latest political news: www.CNNPolitics.com.
CNN: Holder: U.S. a 'nation of cowards' on race discussions
In a blunt assessment of race relations in the United States, Attorney General Eric Holder Wednesday called the American people "essentially a nation of cowards" in failing to openly discuss the issue of race.
CNN: Republicans, analysts question Obama's foreclosure plan
Even before President Obama unveiled his home foreclosure plan Wednesday afternoon, some Republicans and political commentators questioned how exactly it would work to stave off a crisis plaguing the country.
CNN: Sharpton blasts Post cartoon linking stimulus bill to chimp
A New York Post cartoon Wednesday drew fire from civil rights activist Al Sharpton and others who say the drawing invokes historically racist images in suggesting an ape wrote President Barack Obama's economic stimulus package.
NYT: In Reversal, Mayor Now Woos Political Parties
Mayor Michael R. Bloomberg has denounced political parties as a "swamp of dysfunction," has bankrolled a campaign to eliminate them from the New York City elections and has dismissively cast off his own party affiliations like ill-fitting garments. (Democrat? Been there. Republican? Done that.)
WSJ Op-Ed: Rove: Is the Administration Winging It?
Team Obama demonstrated remarkable discipline during the presidential campaign. From raising an unprecedented amount of money to milking every advantage from the Internet to grabbing lots of delegates from inexpensive caucus states, they left nothing to chance.
WSJ: Some Americans, Underwater but Ineligible, Are Riled Up
President Barack Obama's new foreclosure-prevention plan is already sparking outrage from some Americans who won't qualify for federal aid - and from those who resent having to foot the bill for those who do.
LA Times: Senate not likely to oust Sen. Roland Burris anytime soon
Though Roland Burris had some trouble being admitted to the U.S. Senate, he will not be easily expelled now that he has arrived
Chicago Tribune: Quinn hires aide who worked for Rezko, Blagojevich
Gov. Pat Quinn on Wednesday installed as his chief operating officer an appointee of ousted predecessor Rod Blagojevich who also has close ties to convicted fundraiser Antoin "Tony" Rezko.
NATIONAL/INTERNATIONAL
For the latest national and international news: www.CNN.com.
CNN: U.S. to push for more NATO help in Afghanistan
Having just upped the ante in Afghanistan by 17,000 troops, the United States will look for greater commitments from its NATO partners this week, but isn't expecting much of a response.
CNN: Officials: Sebelius in lead for Health and Human Services post
Kansas Gov. Kathleen Sebelius is a leading contender to become the next secretary of the Health and Human Services department, two senior administration officials told CNN. However, the officials stressed that President Obama is still checking out several other potential nominees for the critical job of shepherding his health-care reform plan through Congress.
CNN: Pelosi, pope meet in Rome
House Speaker Nancy Pelosi met with Pope Benedict XVI Wednesday at the Vatican in a closed-door meeting following the General Audience.
CNN: Drug violence spins Mexico toward 'civil war'
A shootout in a border city that leaves five alleged drug traffickers sprawled dead on the street and seven police wounded. A police chief and his bodyguards gunned down outside his house in another border city. Four bridges into the United States shut down by protesters who want the military out of their towns and who officials say are backed by narcotraffickers.
NYT: Outsourcing of Drug Trials Is Faulted
As many American companies in the last decade have sent tasks like customer service and computer support to other countries, drug makers have followed suit by outsourcing clinical trials — the human studies that determine the safety and efficacy of medicines.
Washington Post: Shift Possible on Burma Policy
Secretary of State Hillary Rodham Clinton said Wednesday that economic sanctions imposed by the United States and other Western governments have failed to pressure the repressive Burmese government, signaling a potentially major shift in U.S. policy.
Washington Times: Report opposes spinning off FEMA
The Obama administration should not strip the Federal Emergency Management Agency (FEMA) from the fledgling Department of Homeland Security Department (DHS) and reorganize it as a separate entity, according to a government report released Wednesday.
BBC: Tutu urges Obama apology on Iraq
Archbishop Desmond Tutu has warned Barack Obama of the risk of squandering the goodwill he says the US president's election has generated.
BUSINESS
For the latest business news: www.CNNMoney.com.
CNN: Housing fix will help many, but not all
The $75 billion foreclosure prevention program announced Wednesday by President Obama will go a long way to helping millions of distressed borrowers and to stopping the housing market's downward spiral, experts said.
CNN: Stocks churn on economic woes
Stocks churned Wednesday, hovering near three-month lows, as investors considered the Federal Reserve's dour economic forecast and President Obama's home rescue plan.
Financial Times: Morgan Stanley hires ex-Goldman energy banker
Morgan Stanley has hired William Wicker, a long-time energy banker and former head of Goldman Sachs's investment bank in China, as a vice-chairman of investment banking in its natural resources group, according to a person close to the company.
Forbes: America's Fastest-Dying Car Brands
It's business as usual for Chrysler, it seems. Yesterday the beleaguered automaker announced that it will discontinue three of its models–the PT Cruiser, the Chrysler Aspen and the Dodge Durango–after it cut four others in 2008. The announcement came as part of a request from Chrysler and General Motors for $18.6 billion more in federal loans to help the companies avoid bankruptcy.
In Case You Missed It
To watch the latest interviews and reporting: http://www.cnn.com/video.
CNN: What's next for homeowners?
Larry talks with housing and real estate experts about their reaction to President Obama's housing plan.
General Motors is looking for other governments to pitch in to stave off bankruptcy, as CNN's Jim Boulden reports.
CNN: How to protect your mortgage
Clark Howard has a tip on protecting your mortgage in case your loan gets sold.