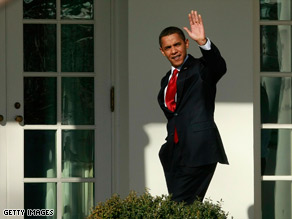 Obama has said he will overturn Bush's restrictions on embryonic stem cell research.
(CNN) - A group of six moderate House Republicans have written to President Obama urging him to lift President Bush's ban on federal funding for embryonic stem cell research.
"We are writing to respectfully urge that you immediately lift the current federal restrictions on funding for embryonic stem cell research," they wrote Wednesday, also requesting that the president ask the National Institutes of Health to issue "appropriate guidelines."
The letter was signed by Reps. Fred Upton of Michigan, Charles Dent of Pennsylvania, Brian Bilbray of California, Michael Castle of Delaware, and Mark Steven Kirk and Judy Biggert of Illinois.
Bush announced in August 2001 that his administration would allow federal funding only for research on about 60 stem cell lines that existed at the time, but Obama stressed on the campaign trail that he planned to reverse Bush's regulations and emphasize science over ideology.
"I guarantee you that we will sign an executive order for stem cells," Obama told a retreat of House Democrats in Virginia earlier this month. But some supporters of stem cell research have griped that Obama has not acted quickly enough to overturn Bush's ban.
"While we have been encouraged by recent news reports that you plan to issue an Executive Order soon, we cannot stress enough the importance of swift action," the moderate GOP members of Congress wrote Wednesday. "After the current restrictions are lifted, we stand ready to work with you and our colleagues in Congress on adopting complimentary legislation."
The Republicans said that stem cell research holds "great promise" for Americans suffering from afflictions like Parkinson's disease, spinal cord injuries and diabetes.