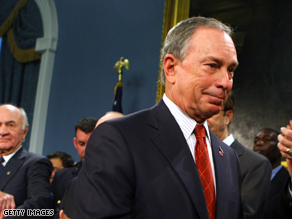 Bloomberg is running for a third term.
(CNN) - Winning a third term may not be an easy feat for New York City Mayor Michael Bloomberg, a new poll out Friday suggests.
The two-term mayor is facing his lowest approval rating in four years, according to a new survey from Marist College, having dropped 7 percentage points from a similar survey three months ago. Now, 52 percent of New Yorkers approve of Bloomberg's job performance, down a full 16 points from October.
A plurality of voters, 49 percent, also say New York City is moving in the wrong direction, and 55 percent think it's time for a new mayor.
Still, it's not all bad news for Bloomberg. The Independent mayor easily beats any possible Democratic candidates, including New York Rep. Anthony Weiner, City Comptroller Bill Thompson, and City Council Member Tony Avella.
The poll surveyed 827 registered voters in New York City on February 16 and 17. It carries a margin of error of plus or minus 3.5 percentage points.