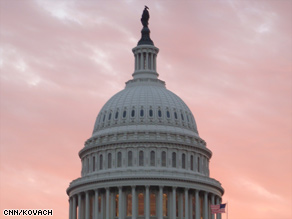 WASHINGTON/POLITICAL
For the latest political news: www.CNNPolitics.com.
CNN: New York Post apologizes for, yet still defends, chimp cartoon
A day after publishing a cartoon that drew fire from critics who said it evoked historically racist images, the New York Post apologized in a statement on its Web site - even as it defended its action and blasted some detractors.
CNN: Roy Blunt's announcement sets up showdown in Missouri
Missouri Rep. Roy Blunt Thursday announced his intention to run for a seat in the U.S. Senate, a move that sets up what is likely to be a showdown between two prominent families in one of the country's most politically divided states.
CNN: Clyburn: Stimulus opponents are insulting African-Americans
Democratic Rep. James Clyburn of South Carolina said Thursday that GOP governors who oppose the stimulus bill are giving African-Americans "a slap in the face."


Washington Times: States prepare to combat stimulus strings
Worried the federal government is increasing its dominance over their affairs, several states are pursuing legislative action to assert their sovereignty under the 10th Amendment of the Constitution in hopes of warding off demands from Washington on how to spend money or enact policy. The growing concerns even have a handful of governors questioning whether to accept federal stimulus money that comes with strings attached.
WSJ Op-Ed: Rush Limbaugh: Mr. President, Keep the Airwaves Free
Dear President Obama:
I have a straightforward question, which I hope you will answer in a straightforward way: Is it your intention to censor talk radio through a variety of contrivances, such as "local content," "diversity of ownership," and "public interest" rules - all of which are designed to appeal to populist sentiments but, as you know, are the death knell of talk radio and the AM band?
Washington Times: Napolitano debates Real ID
As governor of Arizona, Janet Napolitano was no fan of the Real ID program that sets federal standards for state-issued driver's licenses which will be required in the future to board airplanes.
NYT Op-Ed: Krugman: Who'll Stop the Pain?
Earlier this week, the Federal Reserve released the minutes of the most recent meeting of its open market committee — the group that sets interest rates. Most press reports focused either on the Fed's downgrade of the near-term outlook or on its adoption of a long-run 2 percent inflation target.
Chicago Tribune Letter to the Editor: Dan Hynes, comptroller, State of Illinois: The honorable thing to do
Sadly I believe it is in the best interests of Illinois that Roland Burris resign from his seat in the U.S. Senate.
USA Today: Lawmakers take fundraising to slopes
The deepening economic recession hasn't stopped members of Congress from throwing lavish events to raise campaign money for the 2010 election.
NATIONAL/INTERNATIONAL
For the latest national and international news: www.CNN.com
CNN: Obama tackles thorny economic, military issues in Canada trip
President Obama visited Canada on Thursday in his first foreign trip as head of state, meeting with Canadian Prime Minister Stephen Harper to discuss a range of complicated economic and military issues.
CNN: Stakes are high for U.S., China during Clinton visit
When Hillary Clinton visits Beijing this week, her Chinese hosts will closely watch her body movement and parse her every word. Her first trip here as the U.S. secretary of state comes in the shadow of the global financial crisis, the pressing North Korea nuclear issue and a warming planet.
CNN: Carter Library and Museum to get $10 million upgrade
The Jimmy Carter Library and Museum will close in April for a five-month, $10 million renovation, Carter told reporters and dozens of Atlanta-area schoolchildren Thursday.
NYT: Iran Has More Enriched Uranium Than Thought
In their first appraisal of Iran's nuclear program since President Obama took office, atomic inspectors have found that Iran recently understated by a third how much uranium it has enriched, United Nations officials said Thursday.
NYT: Charities Now Seek Bankruptcy Protection
Charities rarely go bankrupt, although there have been scattered examples involving nonprofit hospitals and Catholic dioceses facing lawsuits stemming from the priest sexual abuse scandals. Traditionally, insolvent organizations have simply closed their doors and filed a plan of dissolution with the charity regulator in their state. But in the last six months, nonprofit groups that include cultural institutions and social service agencies have filed to reorganize or liquidate themselves under the bankruptcy code.
International Herald Tribune: Newly poor swell lines at U.S. food banks
Once a crutch for the most needy, food pantries have responded to the deepening recession by opening their doors to what one pantry organizer described as "the next layer of people," a rapidly expanding group of child-care workers, nurse's aides, real estate agents and secretaries who are facing a financial crisis for the first time.
WSJ: U.S. Aid Won't Save Big Apple Budget From Bloomberg's Ax
The estimated $4.5 billion of federal stimulus money that New York City expects to receive over the next two years isn't likely to stave off sharp budget cuts likely to hit social services and cultural institutions, such as parks and libraries, the hardest.
Newsweek: An Opening For Obama?
President Hugo Chávez's successful referendum to lift term limits didn't lift spirits in Washington. Venezuela's fiery leader now has the green light to run again in 2012 and beyond. So perhaps President Obama's best choice is to re-establish relations with the petro-president now, while oil is cheap and Chávez may be open to talking.
Time Op-Ed: Sen. Leahy: The Case for a Truth Commission
More than 30 years ago, a special Senate investigation peered into abuses that included spying on the American people by their own government.
Washington Post: Initiative Takes Aim At Obesity In Children
A coalition of health groups and insurance companies yesterday unveiled an initiative, billed as the first of its kind, to help battle one of the nation's biggest health problems: childhood obesity.
BUSINESS
For the latest business news: www.CNNMoney.com.
CNN: Deflation warning bells ring louder
Prices are falling for just about everything these days.
CNN: Economy puts bite on shark attacks, researcher says
Shark attacks on humans were at the lowest levels in half a decade last year, and a Florida researcher says hard economic times may be to blame.
WSJ: BofA's Lewis Subpoenaed Over Merrill; Thain Talks
Bank of America Chairman and Chief Executive Kenneth Lewis was issued a subpoena by New York State Attorney General Andrew Cuomo, who is investigating whether the bank withheld information from investors in violation of state law, according to people familiar with the matter.
CS Monitor: Behind Dow's plunge to six-year low: one big unknown
The Dow plunged 89.68 points Thursday to a six-year low because traders and investors appear to be nervous about unemployment, trade, consumer confidence. But behind those worries lies one big, big worry: They want to know the size of US banks' so-called "toxic" assets.
The Economist: Can't pay or won't pay?
No part of the financial crisis has received so much attention, with so little to show for it, as the tidal wave of home foreclosures sweeping over America. Government programmes have been ineffectual, and private efforts not much better. Now it is Barack Obama's turn. On Wednesday February 18th he pledged $75 billion to reduce the mortgage payments of homeowners at risk of default. Lenders who help people to refinance their mortgages will receive matching subsidies from the government. These could reduce a borrower's monthly payments to as little as 31% of their income, and last for up to five years.
WSJ: Toyota Taps Veteran for U.S.
Toyota Motor Corp. is expected to announce Friday that it is bringing back Yoshi Inaba, a former senior executive, to revamp its North American operations, according to a person familiar with the matter.
http://online.wsj.com/article/SB123509603063029117.html
Bloomberg: Fortunoff Stops Honoring Gift Cards as Auction Nears
Fortunoff Holdings LLC, the bankrupt luxury-goods chain, stopped honoring all gift cards as it prepares to auction its assets next week.
SPECIAL NOTE:
LIVE, 11 a.m. ET: "44 with Ed Henry"
CNN Sr. White House Correspondent Ed Henry discusses the most pressing political issues of the day from President Obama's trip to Canada to his signing of the most sweeping economic recovery legislation in American history.
"44 with Ed Henry" opens another window into Washington and gives listeners the chance to weigh in on what they think are the most important issues facing the nation.
Log onto CNN.com and tune into the CNNRadio Web stream at 11 a.m. ET every Friday to hear the latest on what is making news in Washington.
In Case You Missed It
To watch the latest interviews and reporting: www.cnn.com/video.
CNN: Dealing with North Korea
CNN's Anna Coren asks Claudia Rosett of the Foundation for the Defense of Democracies how North Korea should be handled.
CNN: Automaker crisis
German truck maker Man AG is grappling with declining sales. CNN's Richard Quest talks with CEO Hakan Samuelsson.
CNN: Obama meets Shaq
Shaq gives President Obama big shoes to fill.