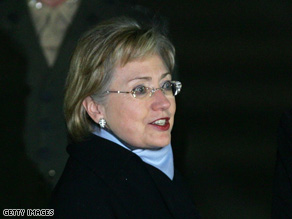 U.S. Secretary of State Hillary Clinton will arrive in Beijing on Friday.
BEIJING, China (CNN) - When Hillary Clinton visits Beijing this week, her Chinese hosts will closely watch her body language and parse her every word. Her first trip here as the U.S. secretary of state comes in the shadow of the global financial crisis, the pressing North Korea nuclear issue and a warming planet.
The U.S. Congress has passed a massive stimulus bill that will plunge America even deeper into debt. Will China help out?
About $700 billion of China's $1.9 trillion of foreign reserves are in U.S. Treasuries. If China sold those assets, U.S. interest rates would spike and would further decimate China's export industries. Such a scenario would be distasteful for both Washington and Beijing, and that's why it's critical that Clinton convince the Chinese to hold this arrangement together.
Why should China buy even more?
"There's some protectionist language in the stimulus package," said James McGregor, who runs JL Mcgregor & Company, a business consulting company in Beijing. "During the campaign, Hillary called on the president (George W. Bush) not to attend the opening ceremony of the Beijing Olympics. China doesn't know what to think of them. She's got to come here to build trust." The stakes are high for America.