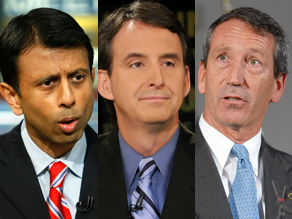 Govs. Jindal, Pawlenty, and Sanford would not rule out running for president in 2012.
(CNN) - In January of 2006, Illinois' junior senator definitively stated on NBC's Meet the Press that he was not interested in running for president.
On Sunday, three Republican governors and potential White House hopefuls were considerably more cautious in answering the same question Barack Obama did three years ago.
"What I'm saying is I'm running for re-election. I have no, no plans beyond that," Louisiana Gov. Bobby Jindal said on Meet the Press after facing repeated questions about his political future.
On Fox News Sunday, neither South Carolina Gov. Mark Sanford or Minnesota Gov. Tim Pawlenty would definitively rule out running.
"Is it a plan? Absolutely not. Is it a likelihood? Absolutely not. But I've learned that you never say guaranteed on tomorrow when you don't know tomorrow," Sanford said.
Pawlenty, meanwhile, said he is currently deciding whether to run for reelection in 2010.
"I'm first thinking about running for reelection for governor in the state of Minnesota, and that's my focus. And if I do, you know, people would expect you to serve out that term," he said.
To be sure, all three answers were significantly less definitive than the answer then-Senator Obama gave in 2006.
"I will serve out my full six-year term," he said then. "My thinking has not changed."