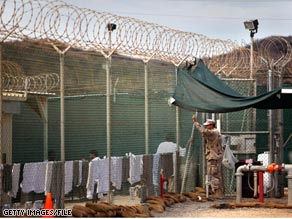 Attorney General Eric Holder is visiting the U.S. detention facility at Guantanamo Bay, Cuba.
WASHINGTON (CNN) - Attorney General Eric Holder and top aides are touring the U.S. military prison facilities at Guantanamo Bay, Cuba to help advance the administration's plans to empty the facility of detainees within one year.
Holder and a team of five others involved in the process of deciding what to do with the detainees arrived mid-morning and were immediately briefed by military officials, according to Holder's chief spokesman Matt Miller.
"He's being briefed on case histories and discussing the charges that were pending for detainees before the suspensions," Miller said. "He's touring all the buildings and the expeditionary legal complex which houses the military courtrooms," Miller said.
Holder is accompanied by Matthew Olsen, who is acting assistant attorney general for the National Security Division. Holder named Olsen Friday as the executive director of the Guantanamo Review Task Force which will recommend whether the 245 remaining detainees should be removed to other countries, be released, be tried on criminal charges in civilian courts in the United States or should be tried in before military courts.
Also traveling with the attorney general are his chief of staff Kevin Ohlsen and counselor Amy Jeffres, Associate Deputy Attorney General Lisa Monaco, and Alan Liotta from the Office of the Secretary of Defense.

Holder is scheduled to arrive back in Washington late Monday night, and the Justice Department will have no further information on his trip for at least a day or two, it said. Miller said Holder is likely to discuss his trip with reporters later this week, but no earlier than Wednesday.
Aides said it was strictly coincidental that Holder arrived at Guantanamo Bay just hours after British officials removed suspected terrorist Binyam Mohamed from the facility and flew him to London on a British plane. Mohamed has claimed he was tortured while in U.S. custody.
Updated 12:35 p.m.