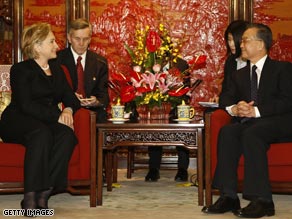 Join the conversation on Jack's blog.
Secretary of State Hillary Clinton is calling on China to keep buying U.S. debt.
During her first overseas trip as the country's top diplomat, Clinton asked Beijing to keep purchasing U.S.Treasury bonds despite our deteriorating economic condition. She also talked about the importance of the administration's economic stimulus package. Clinton says because our economies are so intertwined, it could hurt China if the U.S. couldn't finance the nearly $790 billion stimulus plan.
"We are in the same boat. Thankfully, we are rowing in the same direction, toward landfall," said Clinton. She added that China and the United States "are truly going to rise or fall together."
But this call from the Obama administration shows just how the balance of power is shifting between the U.S. and China.
To read more and contribute to the Cafferty File discussion click here