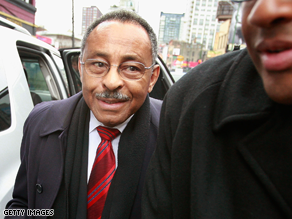 Burris has lost another adviser.
WASHINGTON (CNN) - Embattled Sen. Roland Burris lost the counsel of another adviser Monday, as Illinois lawmakers continued to call on him to resign his seat.
Bud Jackson, who helped Burris in his bid to replace President Obama in the Senate, sent a mass email distancing himself from Burris and describing the senator's "public relations efforts" as "less than stellar."
"Turns out that, because my business is political communication, I need to let folks know that I have not been involved in the decisions that have led to the public relations fiasco over the past week," Jackson wrote. "In fact, I actively counseled his team to take very different actions, to no avail."
But Jackson did note that he continues to back Burris even as others are calling on him to step down.
"I know that he has done nothing inappropriate despite the impression that has been left," Jackson wrote.
Burris is under fire for failing to detail his contacts with associates of now-impeached Gov. Rod Blagojevich. The senator's chief of staff and a spokesman have quit.ris