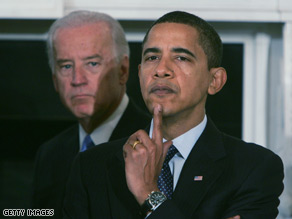 President Obama had harsh words Monday for conservative critics of the $787 billion stimulus plan who have argued that the it contains needless pork barrel spending.
WASHINGTON (CNN) - President Obama had harsh words Monday for conservative critics of the $787 billion stimulus plan who have argued that the it contains needless pork barrel spending.
"When I hear people who say, well, there's a lot of waste in this program, from my perspective at least, keeping teachers in the classroom is not wasteful," he argued.
"From my perspective, tax cuts to 95 percent of working families is not wasteful. From my perspective, providing all of you additional resources to rebuild roads and bridges and levees and dams ... that will enhance the quality of life of your state, but also make it more economically competitive. That's not wasteful."
President Obama made the comments during a meeting at the White House Monday morning the with the nation's governors, who are in the nation's capitol for an annual conference.
Some Republican governors, however, did not back off their criticism of the stimulus package.
Gov. Bobby Jindal, R-Louisiana, highlighted items such as $1 billion in added spending for the national census and $50 million in federal spending for the arts while speaking to reporters after the meeting.
It's "not apparent to me why they had to be in the stimulus package," said Jindal, who has been tapped to give the official Republican response to Obama's Tuesday night address to a joint session of Congress.
Jindal, seen as a possible contender for the 2012 GOP presidential nomination, said his fellow Republican governors nevertheless wanted to give Obama "every opportunity" to succeed in sparking an economic recovery.
Though they support some federal action to help their states recover from the recession, several Republican governors have said they plan to turn down a portion of what's offered in the stimulus bill.
"If we were to take the unemployment reform package that they have, (for example,) it would cause us to raise taxes on employment when the money runs out - and the money will run out in a couple of years," Mississippi Gov. Haley Barbour told CNN's "State of the Union" on Sunday.
The Republican governors of Idaho, Alaska, Texas, South Carolina and Louisiana have expressed similar concerns. Gov. Linda Lingle of Hawaii noted Monday that it's not unusual for some governors to choose to decline federal money in certain circumstances.
But one of their colleagues, Gov. Arnold Schwarzenegger, R-California, disagreed sharply Sunday on ABC's "This Week."
When asked about broader complaints from South Carolina Gov. Mark Sanford about the debt that the stimulus package will lead to, Schwarzenegger responded, "I am more than happy to take his money or (that of) any other governor in this country that doesn't want to take this money. I take it because I think California needs it." He added that he does not foresee a need for tax hike in the future to sustain the unemployment provisions.
In a separate interview on CNN's "State of the Union," Schwarzenegger said the complaints are "partially" right, but that using the money for now "cannot hurt."
Obama dismissed GOP concerns over costs tied an expansion of unemployment benefits, pointing out that those costs amount to only $7 billion in the $787 billion plan - "a fraction of the overall stimulus package."
"If we agree on 90 percent of the stuff and we're spending all our time on television arguing about 1 percent, 2 percent, 3 percent of the spending in this thing and somehow it's been characterized in broad brush as wasteful spending, that starts sounding more like politics, and that's what right now we don't have time to do," he said Monday.