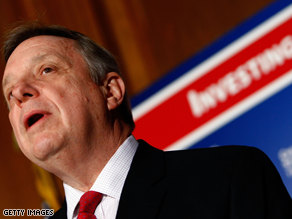 Durbin wants Burris to resign.
(CNN) - Senate Majority Whip Dick Durbin said Tuesday he suggested to fellow Illinois Sen. Roland Burris that he resign his seat.
"I believe with what he faces, if I was in that position, I would resign," Durbin said.
Durbin said Burris indicated he will not step down.
Durbin also said he would not support Burris if he runs for the seat in 2010.
UPDATE: When asked if Senate Majority Leader Harry Reid agrees with Durbin, Reid spokesman Jim Manley responded: "That's up to Senator Burris to decide."