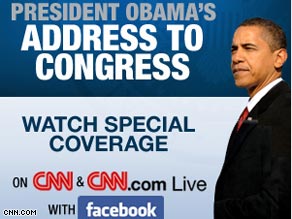 Watch the President's address live Tuesday night with your friends on Facebook courtesy of CNN.com/live.
(CNN) – President Obama has a tech-savvy reputation. But his speech Tuesday night won't be the first presidential address to Congress to be webcast live.
Which president beat Obama to the punch on the World Wide Web?
Answer after the jump

In 2002, President George W. Bush delivered the first State of the Union webcast live on the Internet.