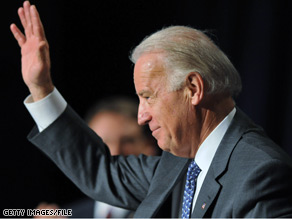 As president of the Senate, Vice President Biden will sit behind President Obama at his first State of the Union address next year.
(CNN) – A number of traditions govern the logistics of a presidential address to a joint session of Congress.
State of the Union addresses or annual messages are delivered in the chamber of the House of Representatives before members of both the House and Senate, as well as the justices of the Supreme Court, the president's cabinet, and international dignitaries.
The president is escorted into the House chamber by House and Senate leaders. The arrival of the president is announced by the Sergeant-at-Arms of the House of Representatives. The Speaker of the House then introduces the president.
The top member of each chamber of Congress - the president of the U.S. Senate (the vice president) and the House Speaker – are seated behind the president during the addresses before a joint session. If there is no vice president, or if the vice president does not attend, the president pro tempore of the Senate sits in the vice president's seat.