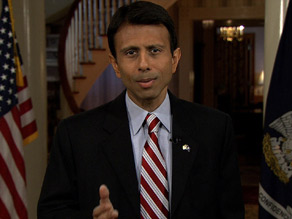 Join the conversation on Jack's blog.
The Republicans trotted out one of their hopefuls for 2012 this week and he pretty much landed with a loud thud. Louisiana governor Bobby Jindal got lousy reviews from across the political spectrum after giving the Republican response to President Obama's address to Congress Tuesday night.
The criticism even came from conservatives who have been promoting the 36-year-old rising political star as the person to revive the GOP. Some Republicans say Jindal came off at best off-balance and at worst downright amateur in his national debut. They're calling for the person who wrote Jindal's "cheesy" response and coached him to be fired and say Jindal shouldn't be allowed near a teleprompter again. Others point out that Republicans are looking for a "conservative version" of President Obama. Jindal ain't it.
To read more and contribute to the Cafferty File discussion click here